One thing I don't often encounter as a vegan in New Mexico is other vegans. Until Rick and I went to VidaVeganCon in Portland I was under the naive impression that all vegans were sort of the same. Oh silly me. Vegans by definition avoid eating, and usually wearing or using animal products of any kind. That's where similarities stop, and personal preferences and ethics kick in.
Most vegans seem to care very much about the welfare of the animals on this planet. Some are most interested in the environmental impact the meat and dairy industries create. And then there are those, like me, who are deeply interested in our own good health and that of other humans. I have to admit to being somewhat dismayed to see so many "ethical" vegans in such poor health, while they often criticise "health" vegans for being selfish and missing the point - the animals.
Wow... This is hard stuff for me to tackle, but as I go along, it gets easier to say what I think. And here it is - My biggest reason for being vegan is that I want to cause as little harm in this world as possible. That means I care deeply about the animals and the planet itself. Along with that is my wish to do as much good as possible while I'm here, and in order to do that, I have to take care of
myself
.
It's easy to be vegan and eat nothing but processed vegan junk foods. They're everywhere, and they play an important role in helping people make the shift from animal foods to plant foods. But the belief that just because a food is animal-free makes it healthy is a dangerous one. While it's been documented that vegans are 40-50% less likely to have things like type 2 diabetes, heart disease, cancer, stroke, and Alzheimer's, we certainly aren't exempt from diseases brought on by a high fat, highly processed, low quality diet.
It's totally possible to be a junk food vegan. While the animals are clear winners in this scenario, overweight (or underweight), unhealthy vegans not only cheat themselves out of the best quality of life possible, frankly they don't put a positive "face" on veganism. Sure, we're all in it for our own reasons, but if we want to get attention and help keep the vegan shift moving forward, the best thing we can do is to be glowing examples of what a good vegan diet can do for us.
So go vegan, yes! For any and all the honorable reasons that resonate with you. And remember to take good care of
you
, so you'll be best equipped to take care of the animals and the planet. It's like when you're on an airplane - you have to put your own oxygen mask on first,
then
you can help somebody else. The "vegan oxygen mask" is whole, plant based foods, simple as that. Think greens, veggies, fruits, grains, beans and legumes, nuts and seeds. You'll be amazed at the variety that's built in, and probably also amazed at how well you feel when you eat that way at least most of the time. (And yes, of course there's room for treats! You know how I love cupcakes!)
I get a lot of requests for quick, healthy vegan recipes. There are quite a few here on my blog, but I realize it isn't a quick process to sift through years of posts to find something to make for dinner. You might prefer to order the
Recipe Box
, where I've collected over 100 of my best recipes (and counting), in one easy online resource, along with darling printable recipe cards.
I'm also working on a more extensive program geared specifically for people who don't want to spend a lot of time in the kitchen, but do want to eat whole, healthy meals. I'm on it, I promise! But until I can get that all in place, check out this link to the
Build A Meal
page of the
ChooseVeg
website. It's so much fun, I wish I'd thought of it! I love what they've done with the entire site. Be sure to take a wander around!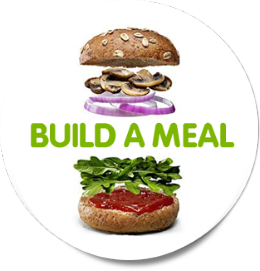 Eating well and taking good care of your own sweet self are as easy as "grains, greens, and beans." Enjoy!
~~~
Want over 100 PV recipes in one handy place? Get the Recipe Box!